Hello guys welcome to cutesmswishes.com.Since two or three day  i have been very active in this website posting Happy birthday wishes in hindi,Funny and cheesy pickup lines and more.Today i am going to share some of the funny jokes in urdu for your child,for you and your family.We have a huge collections of funny jokes in urdu,funny jokes in english and more .So stay and subscribe cutesmswishes for lots of funny jokes in urdu.
Ek bacha ghar se maar kha kar gussay mai School ja raha tha

Rastay mai ek uncle ne poocha: Beta phartay ho?

Bacha: Nahi, Uniform Pehn kar Mujra karnay jata hon…
1 Admi ke 3 bachay thay, Uski Bewi Mar gayi Tu Us ne 3 Bacho wali 1 Bewa Aurat Se Shadi Karli.

Shadi ke baad duno ke 3 owr bachay bhi ho gaye

1 din sab bachain Larnay Lage

Tu Bewi Ne Shouhar Ko Phone Kia: Ap jaldi ghar Ajayen ap ke owr Mairay Bachay Mil Kar Hamaray Bachon ko Maar rahy hien….
Mental Hospital ke 1 Room mai Sab Pagal Dance Kar rahay thay

Un mai 1 Pagal chup kar ke Betha howa tha..

Doctor Sahib samjha ke Shayed Ye Pagal Theek hogia hai..
Doctor Sahib ne us se Pocha: Tum dance kio nahe kar rahay?

Pagal: Chup bewaqof, mai Dulha Hoon….
Larki: Paroos Wali Buddhi Aunty Mujhay Boht Tang Karti thi, Jab bhi Kesi Larki ki shadi Hoti thi Tu wo mairay Gaal Kheench ke kahti thi
"Ab Tumhaari Baari Hai"

Lakin Phr Unho Ne Aisa Karna band Kar dia

Friend: Kion??
Larki: Kion ke Jab bhi koi Mar Jata tha Tu main Un Se Kahti
"Ab Ap ki Baari Hai"
1 Aadmi nay zindagi say Tang aa kar kaha:
"..Es zindagi tu Mout achi hay.."

Aik dam Mout ka Farishta aa kar bola: "Tyar hoja may tumhay lainay ayah on"

Aadmi bola: Lo g ab Insan Mazak bhi nahi kar sakta…
Pathan: Yaar Ye Shadi ke Joray Kahan Bantay Hien?
Sardar: Asmaan Par
Pathan: Uf Khudaya boht bari ghalti hogayi
Sardar: Kion Kya howa??
Pathan: Hum ne tu kapra darzi ko de dia ..
Girl: Doctor sahab mairay boyfriend ko andar bhula lejiye

Doctor: Trust me may shareef aadmi hon….

Girl: Nahi Doctor Sahab, apki nurse bahir akeli hay, owr mera boyfriend shareef nahe hay
Husband TV Dekhtay howe zor zor se Ro raha Tha.
.
Wife: Konsi film dekh rahay ho jo Is tarah ro rahay ho?
.
Husband: Apni shadi ki film dekh raha hon
Huband To Wife: Kya apka Shadi Se Pahle Koi Boyfriend tha?
Bewi thori dair ke lie khamosh rahi…….
Husband: Mai es Khamoshi ka matlab lon.. matlab koi friend nahi tha na?
Wife: Abbay gen ny tu day…
Shadi ke kuch Din Baad Baiti apni Maa se Phone Par: Aaj Meri Un say Larayi Hogayi…

Maa : Beta Shadi Ke Baad Jhagray hote Rahtay Hain, koi baat nahe….

Beti: Han wo tu theek hay Par ab Laash ka kya karon???
cutesmswishes has good jokes for kids. The joke of the day for kids is also available here. Kids one liners are accessible here. Urdu point provides puns for the kids. You will find the large collection of funny jokes for kids. Kids like to tell good jokes, for learning good and funny jokes in urdu you should visit this site. If you want to find good jokes for kids, Urdu Point is the best website. The jokes section on website provides you with the funny jokes of the day. All the jokes on website are good jokes for the kids. We have a lot of funny jokes for kids.
You will find the best result for the funny jokes in urdu or pathan jokes in urdu. Pathan jokes are very famous. So you can read funny pathan jokes in Urdu. All variety of funny Pakistani jokes can be found. These funny jokes can also be used as funny sms in Urdu. The best Urdu latify can be found here. There are many pathan jokes which will make you laugh. If you need a funny joke go for Urdu Point. All good jokes are the funniest jokes and short jokes.
There are latest chutkuly as well. You can also find hindi chutkuly and hindi chutkuly for whatsapp. All the good jokes are specifically collected for the kids. Kids can read good jokes. Funny jokes will make you laugh and joke of the day will entertain you every day. Best hindi chutkuly and funniest hindi chutkuly are also available here. We can provide you all the hilarious joke of the day. You can also download comedy jokes.
We have collected all the funniest jokes for you. The joke of the day is very short. It will take your less time but will make you laugh more. If you want good funny jokes we will provide you good jokes, funny jokes in urdu and latest chutkuly.
 Funny jokes in urdu
Father: Baita Jawo mairay lie 1 glass Pani Le awo
Son: Abbu main game khail raha hon, mai nahi ja sakta
2nd Son: Abbu Ye tu hai hi Batameez, Ap khud ja Ke Pee lain…
Girl to Shopkeeper: Koi aisa "Valentine Card" hai, jis par lekha ho "may sirf owr sirf tum say pyaar karti hon"??
Shopkeeper: Haan g hai
Girl: Acha tu aisay 5 cards daina ….
Bikhaari: Aray Baba Kuch De do Boht Bhooka hon
Sardar100 rupay nekalty howe bola: 50 rupay hain tumhary pas?
Bikhaari (Khush hote howe): Han g hain
Sardar: Acha tu pahlay wo kharach kar lo …
Wife & Husband Bazar mai Ja rahay thay
Tu 1 Faqeer Ne kaha: Shehzaadi 10 rupay de dain, mai andha hon
.
Husband: Paisay de do, Tumhay Shehzadi keh raha hai Tu zaroor andha hoga
A man came to know about affair of her with other boy
He decided to kill his wife and also kill himself.
.
Apnay kaan par pistol lagayi to uski bewi hansnay lagi to wo bola:
"Tu zyada khush na ho, agla number tera hay"
1 bacha khait say aalu nikalnay mai Dada ki help kar raha thaa
.
.
.
boht thak giya tu bola:
"ap ne yai sab akhir zameen may dabaye he kio thay?"
1 Larki Namaz Parh kar Shaadi ke leye Dua Mangny Lagi Tu Sharma Gayi owr kehnay Lagi "Ae Allah Main Apni Leye nahi mangti bas Ammi ko 1 Khubsorat Damaad De den"
.
Pata Hai Kia Howa?
.
Kuch din baad Us ki Choti Behn ki Shadi ho gayi
.
Moral: Duaawon mai dramay nahi Karnay Chahie
Shaadi ki raat Husband confuse hogiya
Ke bewi se kya bolon..!!
.
Akhir woh bola
.
Ap ke ghar walon ko maloom hay,
Ke aap yahan mairay sath ho??
Ek choti si bachi Dukandaar se: Uncle jab mai bari ho jawongi Tu ap mujh se shadi karengay?
Dukandar ne Mazak se Kaha: Haan
Bachi: Tu aap apni hone wali wife ko 1 free chocolate nahi do ge?
Nikah ke baad…
Dulha: Molvi Sahib Nikah Parhwany ke apki Fees kitni hai?
Molvi: Dulhan Ki Khubsurati ke Mutabiq De do
Dulha nay 10 rupey deye, achanak hawa ka Jhonka aya owr dulhan ka ghoongat hat gia
.
Molvi: Aray bhai baqi Paisay tu le lo…..
Funny jokes in urdu images
Everyone values telling the one joke that gets the whole room snickering, yet it's a hard task.How do you know which humdingers will impact people to giggle, and which will undoubtedly sink like a remain? So you don't have to peril taking after a simpleton by telling another horrendous joke, a social occasion of specialists have understands the most diverting jokes ever. It should be seen that the overall public being told the jokes by examiners at Oxford University were understudies at the London School of Economics, so they may slant toward high-temple gags.See below funny jokes in urdu images
A bit of the joke are long, some are short, and two segment bears for no good reason, however, would they say they are amazingly the fascinating jokes on the planet? You pick. A couple of things just never get old. Here we are with likely the most striking jokes you will ever find on the web. A couple of individuals make their own specific jokes to make another chuckle. Such people are amazingly great. In case you too need to part a couple of jokes, by then here I am posting top Urdu jokes, these are the best jokes ever in Urdu and funny jokes in urdu. You can confer these jokes to your sidekicks.
Husband Wife Joke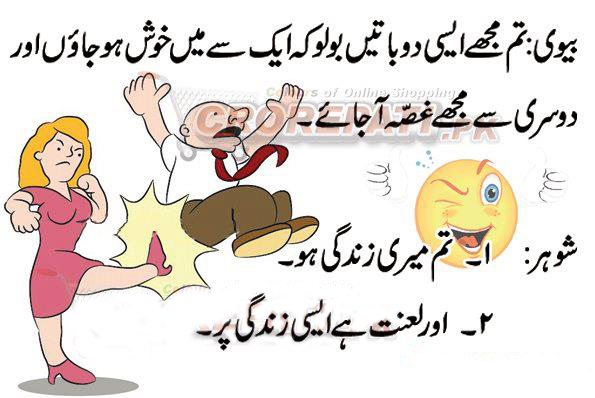 Washroom Joke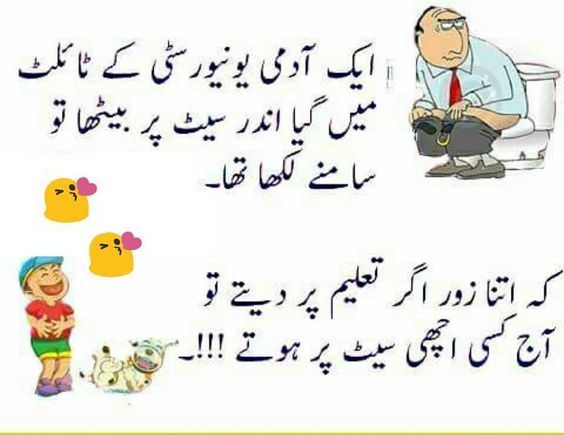 Police Joke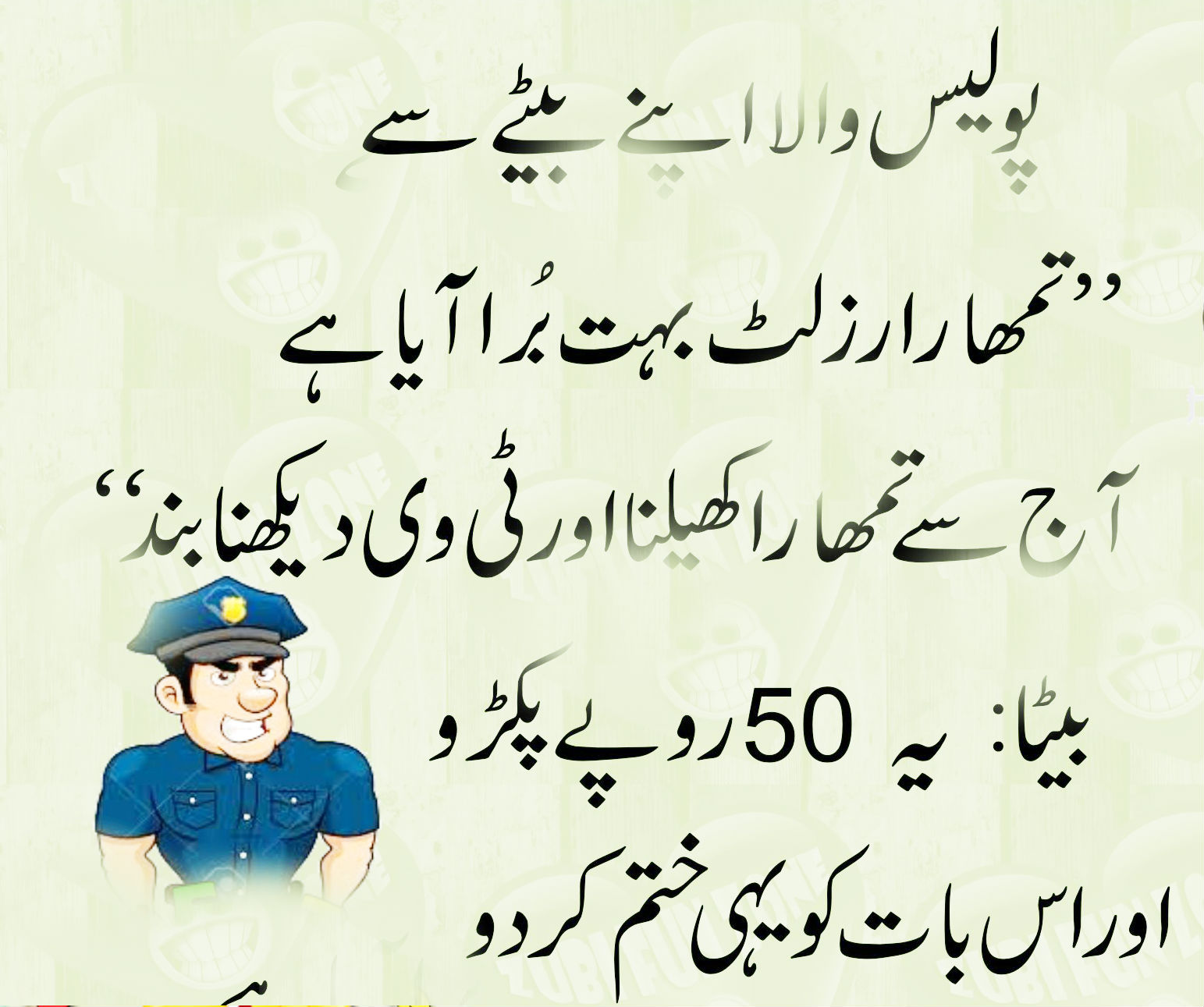 Cockroach joke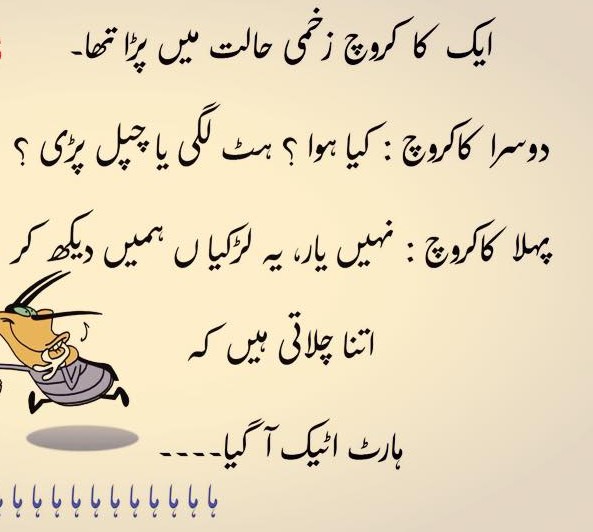 Salesman Joke
Cycle Joke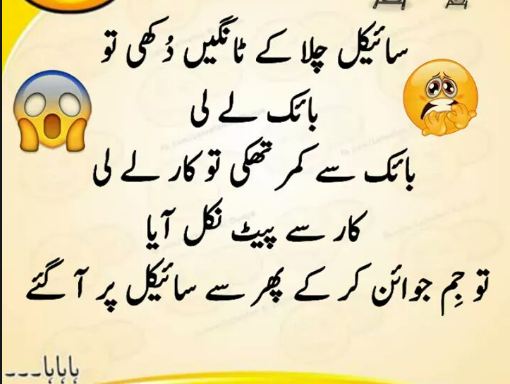 Girl Picture Joke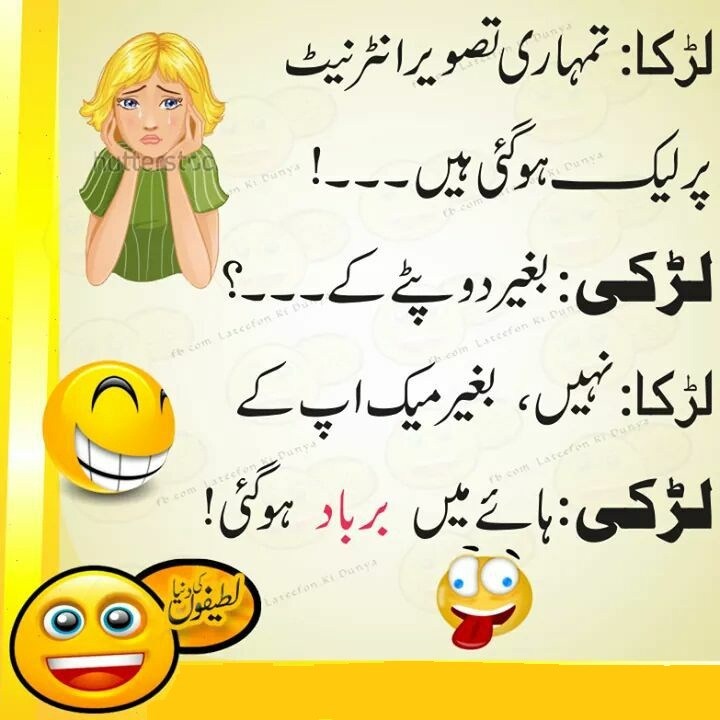 Dog Joke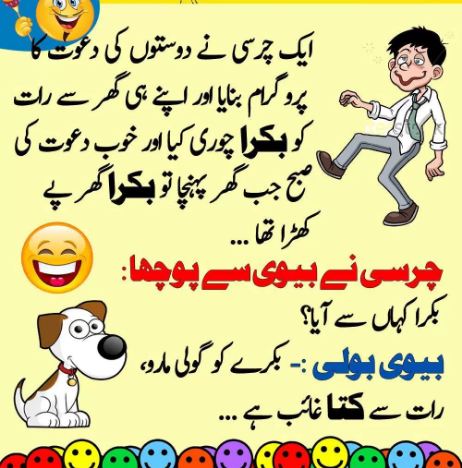 Funny Husband Wife Joke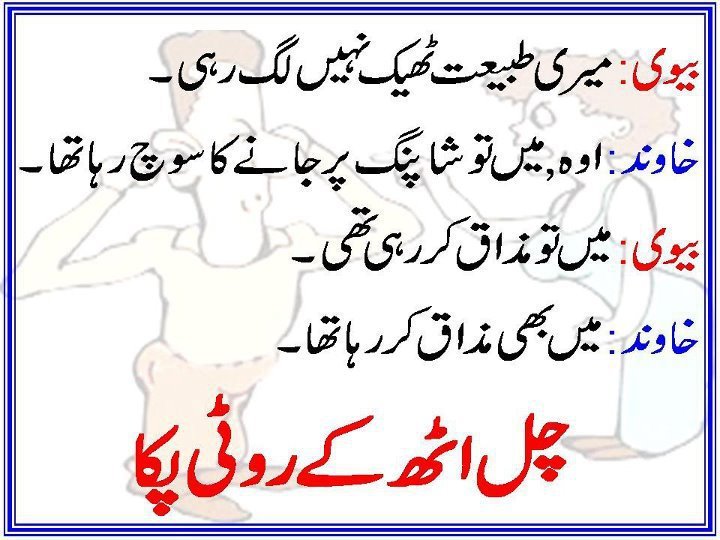 Load Shedding Joke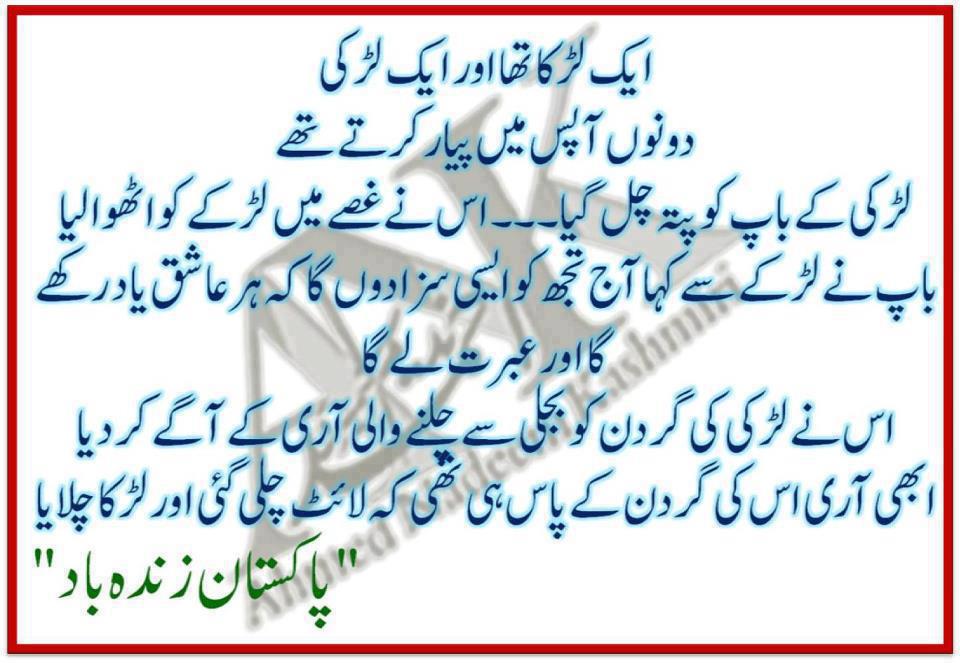 Call Joke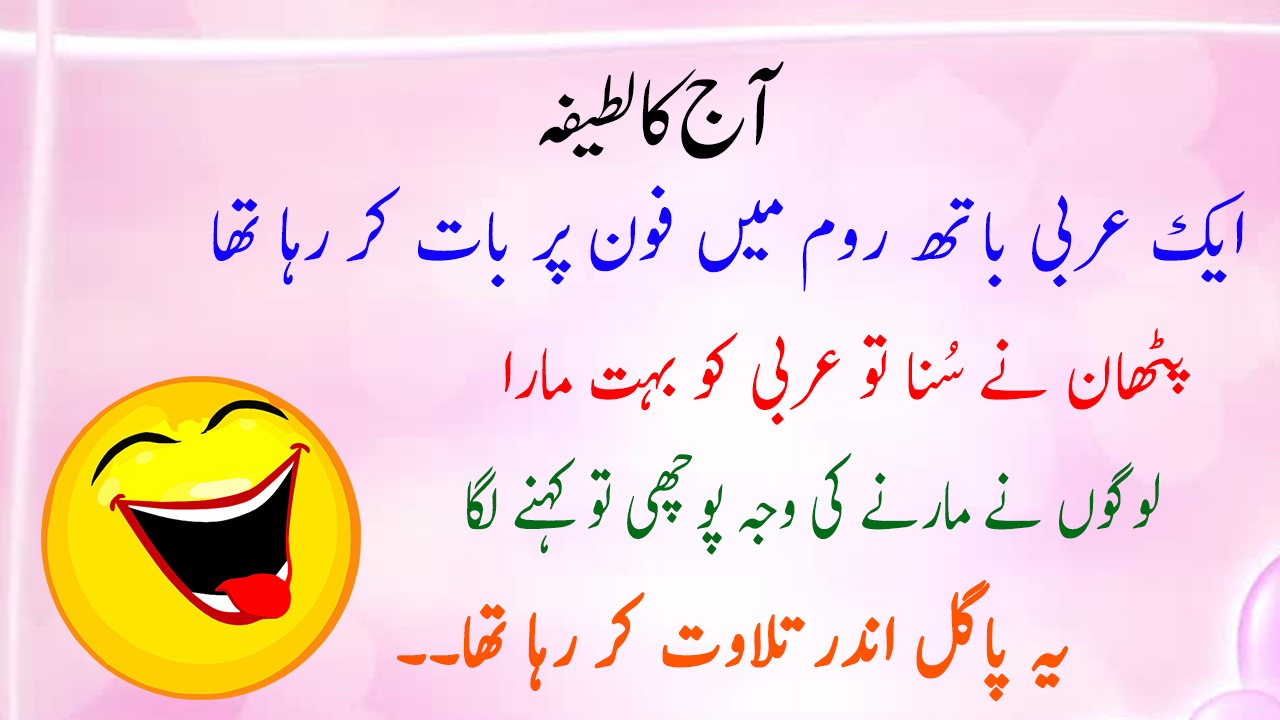 Motorcycle Joke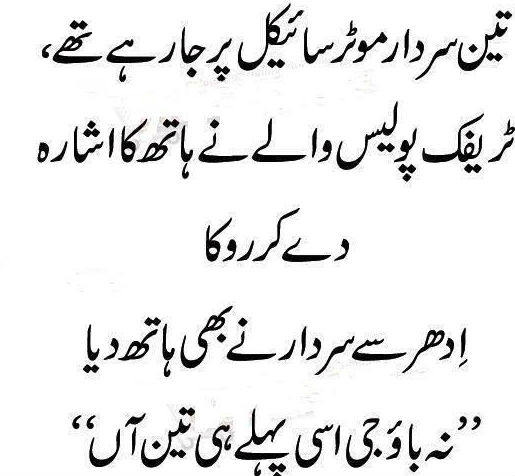 Deaf Person Joke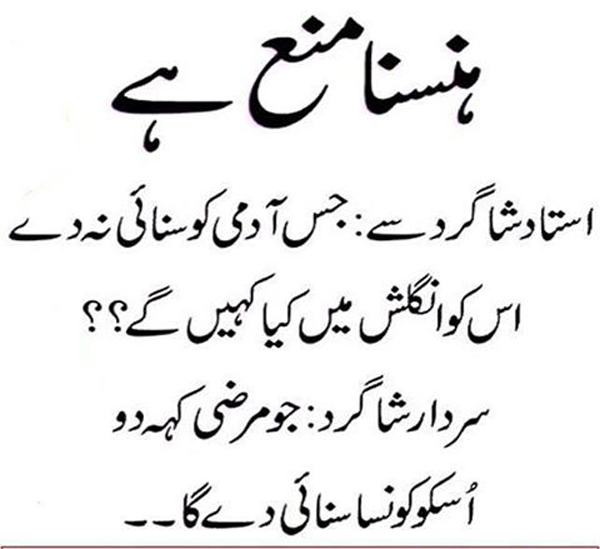 Clever Husband Joke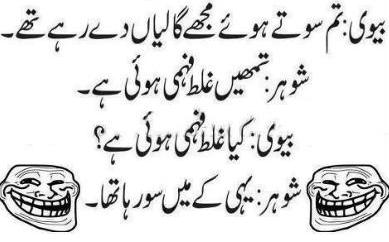 Faisalabad Person Joke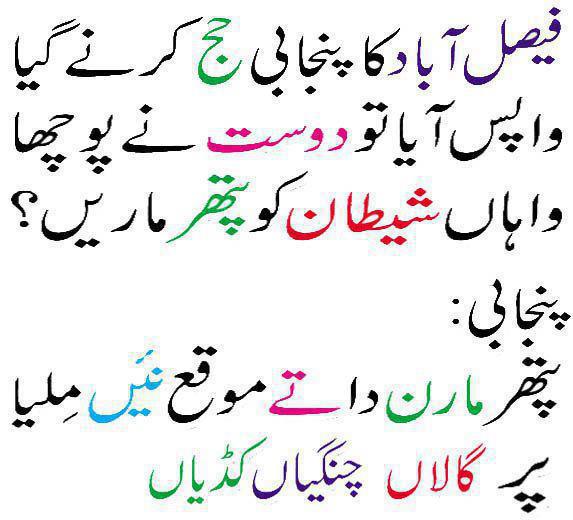 Dumb Person Joke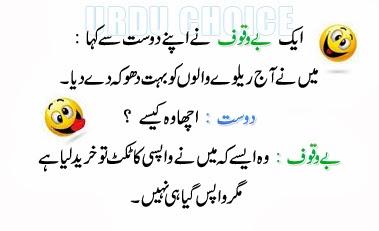 Lion Joke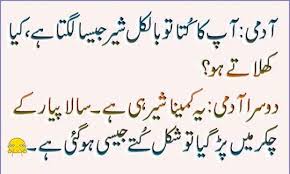 Pathan Funny Joke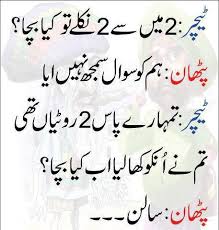 Air Hostess Joke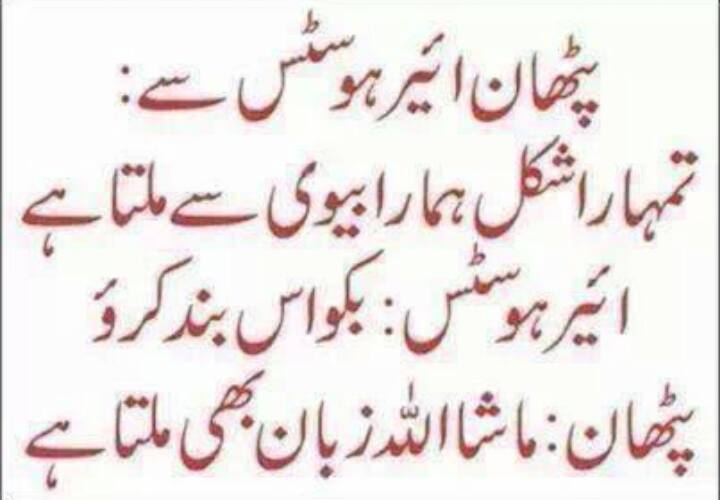 Husband Funny Joke